Melanie Griffith Plastic Surgery – How Much Is Too Much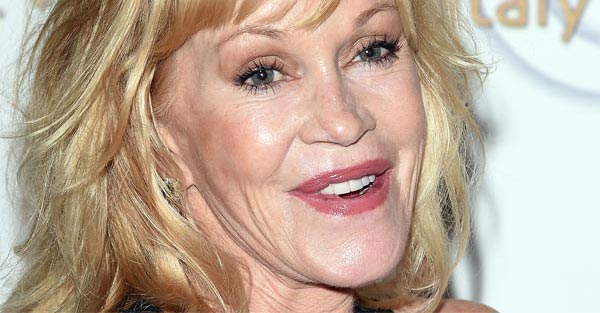 Short Bio
Melanie Griffith was practically born in the movies. Her mother, Tippi Hedren, was a successful fashion model and movie star in the fifties and sixties, and is best remembered for her role in Alfred Hitchcock's movie The Birds. Melanie appeared in her first TV commercial when she was only nine months old, and was making movies before she was old enough to drive.
Breast Augmentation
A list of Melanie Griffith cosmetic procedures would be a long list indeed. She had a breast augmentation in 1990, reportedly after hearing the crew of the movie she was working on complaining to the director that is was impossible to make her look good on camera. She is said to have had her breasts augmented while the movie shoot was on a Christmas break, and when she returned to work the difference in her appearance was obvious, and the director had to deal with having Melanie's two different looks on film in different parts of the movie. Melanie's roles in the movies had usually been as a sex kitten or vamp, and since she had appeared in many movies in lingerie, all her fans immediately noticed her breast augmentation.
Lips Injection
Melanie Griffith plastic surgery picked up steam after that, and she began to have work done on her face regularly and noticeably. Melanie's struggles with depression, drugs and alcohol are well documented, and she seems to have a bout of plastic surgery every time she has a falling out with a spouse or boyfriend. During the mid 1990s, she obviously had either collagen injections in her lips, or perhaps even implants. She was regularly mentioned in gossip magazines for her new trout pout look, and the change in her looks was striking and obvious. In 1996, she appeared publicly with even larger lips, as well as a completely smooth forehead, which many observers attributed to a round of Botox, or perhaps even fillers.
Eyelids And Face
In 1998, Melanie turned 42 and her appearance started another round of Melanie Griffith cosmetic enhancement rumors. Her lips were even bigger, suggesting more collagen injections, and here taut forehead and raised eyebrows indicated that she'd had a total facelift. The appearance of her brows and eyes also looked as if she'd had an upper Blepharoplasty, also known as an eyelid lift.
Cheek Implants
After 2000, her cheeks appeared to have been injected with filler, or even cheek implants, and her lips were even bigger, her eyebrows were permanently raised in a look of surprise, and Botox or fillers made her skin seem taut and motionless. It was then that her husband, actor Antonio Banderas, is reported to have forbidden her from having any more plastic surgery.
Neck Lift
In 2012, Melanie Griffith cosmetic rumors were re-ignited when she appeared at an awards ceremony with a very wrinkly neck, but then less than a year later, the neck wrinkles were completely gone. This suggests that Melanie had undergone a cervicoplasty, also known as a neck lift, which removed excess skin from under the chin and the neck.
Conclusion
Recently, Melanie has started to look her age a little more, seems to have allowed the work she's had done to recede a bit, and she's starting to look more like her original self. That's an improvement, and she's beginning to pick up more work on TV and the movies as she regains a more natural look and expressive face.
Melanie Griffith's Plastic Surgeries
Whether it's classical cosmetic enhancements like a boob job or more obscure things like eyelid surgery, here is a list of all the known plastic surgeries Melanie Griffith has done: