Taylor Armstrong Plastic Surgery Before & After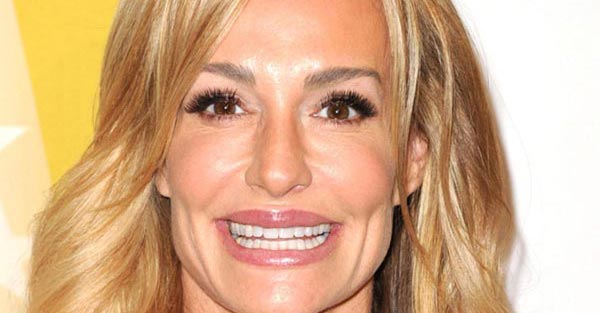 Short Bio
Taylor Armstrong is a celebrity best known for her role on The Real Housewives of Beverly Hills seasons 1-3 and as a guest on the show in seasons 4-5. Armstrong is also known for her traumatic past, including an abusive relationship with her then-husband who later, tragically committed suicide. Through all of these struggles, she has been resilient and has emerged stronger than ever. However, in interviews, Armstrong has admitted that she felt compelled to change her appearance in an attempt to escape her tragic past and leave her old identity behind. She has since undergone quite a few procedures.
BREAST IMPLANTS
Taylor Armstrong has just recently openly admitted to having a breast augmentation, though it has been quite obvious for a while. Her breasts are quite round, perky, and often appear to be almost hard or rigid, a telltale sign of implants.
[SEE ALSO] Selena Gomez, Patti Stranger & Meagan Good breast implants before & after! 
BOTOX
On her reality show, it can often be quite difficult to read Armstrong's facial expressions. Whether she is angry, happy, or sad, her forehead does not move to accommodate the emotion, whatever it may be. This is often an issue with those who use Botox. Not only is her forehead unmoving, but it has a shiny, wrinkle free appearance that, for someone in their early forties just isn't possible without some injectable help.
FILLERS
To have fuller, rounder cheeks gives the appearance of youthfulness, which is why many celebrities will get fillers injected into their cheeks as they get older. This seems to be another plastic surgery procedure Taylor Armstrong has had done in recent years. Armstrong has very prominent cheeks, to the point where they often look somewhat unnatural. The size and fullness of her cheeks have certainly grown over the years if you compare past and present images, indicating that she has most definitely had some work done in that area.
It certainly appears that Taylor Armstrong has received either collagen, or lip fillers to give her pout some extra plumpness. Looking at photographs of her as a young woman, her lips were quite thin and very natural looking. In present day, one of the first things you see when you look at Taylor Armstrong is her lips, because they are so plump and full in their appearance. This certainly does give her a more sultry look, which may have been what she was going for, though she also looked great without them.
Though Taylor Armstrong has certainly undergone many plastic surgery procedures, she is still a gorgeous woman who should be applauded for the incredible strength she has displayed in so many arenas in her life.
Taylor Armstrong's Plastic Surgeries
Whether it's classical cosmetic enhancements like a boob job or more obscure things like eyelid surgery, here is a list of all the known plastic surgeries Taylor Armstrong has done: