Pamela Anderson Plastic Surgery- Obvious Lips & Boob Job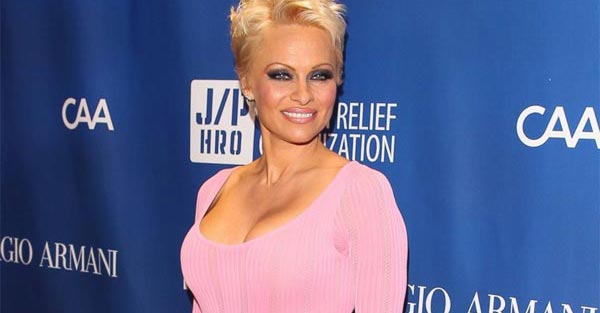 Short Bio
Pamela Anderson is not only a global sex symbol but has become a plastic surgery princess with all of the work that she has had done. She started out as a normal girl who played volleyball and lived in a tiny Canadian fishing town. She did all the normal things as a teenager before she became internationally famous as CJ on Baywatch. She attended pool parties, prom, and graduation like any normal teenage girl, and even sent amateur nude and lingerie photos to her boyfriend.
If you can believe it, Pamela Anderson was originally a beautiful brunette angel with bright eyes and an amazing smile. This, of course, was before she dyed her hair peroxide blonde and spent thousands upon thousands of dollars on plastic surgery on her breasts and lips. She has given many different excuses for her decision to have her procedures, however, the one that everyone finds appropriate is the fact that she wanted to become a star.
The Drastic Changes
While Anderson has had many breast augmentations and lip injections, she has been rumored to have had facelifts and fillers, as well as a lift and tuck to prevent the appearance of her age. At 46 years of age, she has not taken on the appearance of most 46-year-old women with wrinkles, crow's feet, and sagging skin around the chin. While she continues to maintain her youth through her plastic surgery, she has taken on a more mature appearance which is fortunate in comparison to other actresses her age. She will continue to be the fantasy woman for many men for a number of years and as she draws more attention to PETA and animal rights, we will continue to see much of her for the years to come.
Conclusion
While this plastic surgery princess has been changing her appearance for many years now, the number of times Anderson has gone under the knife is no real surprise to those who know her history. It is almost a certainty that Pamela will continue to have many surgeries to keep her youth as well as additional surgeries to keep her figure. What is next for this busty American sex symbol is not truly known and what other procedures she has planned for herself is not a common part of the popular conversation, however, we are sure that if it is something drastic she will let us know.
Pamela Anderson's Plastic Surgeries
Whether it's classical cosmetic enhancements like a boob job or more obscure things like eyelid surgery, here is a list of all the known plastic surgeries Pamela Anderson has done: