Heidi Montag Plastic Surgery Before And After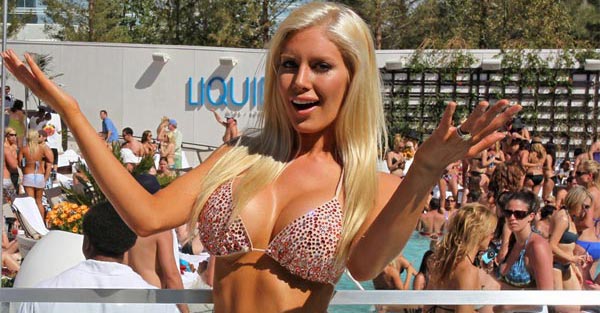 Short Bio
Heidi Montag plastic surgery data began leaking years ago. Shortly after the young starlet appeared on the hit show, The Hills, she began getting work done to adjust her overall appearance. Eventually, Montag became famous for the extremes she went to in order to come up with the "perfect" look.
Boob Job (Breast Implants)
One of the most dramatic examples of Heidi Montag transformation was her breasts. Montag reported being very unhappy with her small cup size, especially after moving to Hollywood and being surrounded by models and actresses with more to offer in that category. However, the size she added to her breasts was just one of 10 procedures she had done during her first sitting.
Nose Job (Rhinoplasty)
Another popular surgery Montag went in for was a nose job. The rhinoplasty was used to both smooth out and narrow her nose down. The "after" shots show a dramatically thinner nose than the one we had grown used to on The Hills.
Brow Lift
She also had a brow lift done. Though it's easy to argue she never needed any plastic surgery, this one seems especially surprising. Brow lifts are usually done to help erase wrinkles. However, in Montag's case, it seems unlikely she had any, to begin with. Perhaps she saw this as a necessary measure to take before wrinkles began forming.
Chin Reduction
Montag was apparently unhappy with her chin prior to plastic surgery, which is why she had hers reduced when she went in for surgery. Again, the Before and After pictures make it pretty clear she had her chin shaved down and rounded to reduce the pointy chins.
Neck Liposuction
Here's another confusing choice for the young actress. She was always extremely thin, making it odd that she would feel her neck was carrying around too much weight. However, for whatever reason, this made the list of procedures she felt were necessary and she had fat removed from her neck.
Somewhat notoriously, Montag didn't stop at 10 surgeries, eventually going back under the knife several times to add to her appearance. At one point, she wound up with a chest size of 32F. In later interviews, she would confess that her overzealous chest was actually causing her back pain.
In many ways, Montag serves as a warning for others who want plastic surgery. She has since had much of her work undone or otherwise worked on to cover up.
activate javascript
Heidi Montag's Plastic Surgeries
Whether it's classical cosmetic enhancements like a boob job or more obscure things like eyelid surgery, here is a list of all the known plastic surgeries Heidi Montag has done: